Group show |May 2015
HUMAN NATURE
A curated exhibition of video work exposing different aspects of our interconnection with 'Nature'.
Featuring:
Home is where...
by Judith Alder
Recorded at Eastbourne's Napoleonic Redoubt Fortress.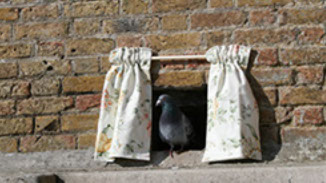 The new enemy at the Redoubt is a colony of pigeons who take every opportunity to invade and occupy the open ventilation shafts of the building's original structure, but I was interested in the part played by pigeons in war time. A little research about carrier pigeons led me to the PDSA's Dickin Medal, "awarded to animals displaying conspicuous gallantry or devotion to duty" and awarded to 32 World War II pigeons who between them saved hundreds of lives. How ironic that these "brave" pigeons (possibly ancestors of the unwelcome squatters at the Redoubt), were considered heroes while actually simply following their natural instincts to fly home at any cost.
4 minutes | Image courtesy of Judith Alder
Medway Hymn
by Simon Barker
The curious relationship between a temple built in the late 19th Century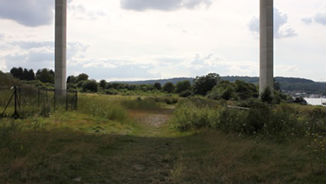 in Kent, by the strange Jezreelite sect; and another monumental structure: the motorway bridge across the River Medway at Rochester, beneath which, the stones of the demolished Temple now lay, is explored. Once a dominating presence in the landscape, the temple and any significant traces of the sect have been erased.
15 minutes | Image courtesy of Simon Barker
Von Uexküll
by Ciarán Ó Dochartaigh
'Von Uexküll (Odradek)' is built around an attempt at communication.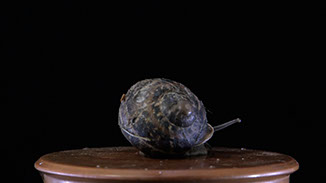 Neither character becomes the dominant force – a metaphysical duel ensues.
The piece creates an intimate apprehension that builds tension and anticipation. However the climax may never come.
3.5 minutes | Image courtesy of Ciarán O Dochartaigh
End of Night
by Adrianna Palazzolo
I took a train from London to Darlington with a dv cam and zoom recorder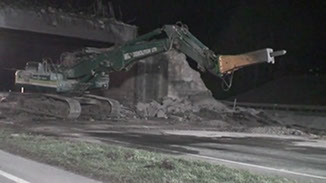 to spend the night filming on a bridge demolition site on the A1 motorway. When I arrived to Darlington station, I had to take a bus to the edge of town where I met the job site manager. He picked me and we drove to the job site. He was surprised I had met him on my own. When we arrived, I was given a safety brief and reflective clothing to wear, the size they gave me didn't fit so I had to adapt it with a belt. We drove the motorway bridges that were being demolished around 6pm, just before sunset. When the sun went down the work began, the low frequency sound was as physical as the work taking place, I was observing a labour that often goes unseen.
9 minutes | Image courtesy of Adrianna Palazzolo
Same Colour as the Carpet
by Nicola Woodham
An overheard pub story becomes a script for a voice actor.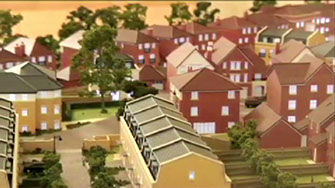 The story is fragmented and kaleidoscopic. Meanings emerge. The image follows the sound. A suburban drinking hole, a children's play area, traffic, utopian cross stitch embroidery. It's all burning. It's the end of a dream and the beginning of an hallucination.
Credit: voice over artist – Robin Bale.
4.5 minutes | Image courtesy of Nicola Woodham
Curated by Alexandra Valy for Curious Projects.